The University of Connecticut Mascot has been a tradition for decades. From attending campus and community events, to bringing smiles to thousands of husky fans at sporting events and making appearances all across the country, Jonathan is one of the most recognized and photographed symbols of the Pride and Spirit of UConn!
Want Jonathan The Husky at your next event?
Please fill out the Appearance Request Form below and a staff member will contact you within two weeks. Jonathan appearances must be booked one month in advance of the actual appearance date. The requestor will be sent an invoice for payment of $175. The maximum appearance time is 2 hours.
Completing the form does not guarantee that Jonathan will be able to attend your event.
Please direct any questions to stamfordactivities@uconn.edu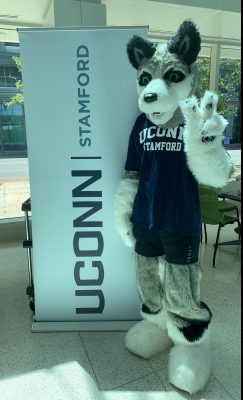 Jonathan Appearance Request