Welcome to the 2021 Homecoming Events Page!
Homecoming will occurs at UConn from October 10th to the 16th. This year, we've got a great combination of your favorite traditional events, combined with some great new ways to show your husky spirit.
This years theme is All Around The World
| | |
| --- | --- |
| Date | Item |
| September 27th, 2021 | Window Painting Registration |
| October 4th-8th | Window Painting |
| October 9th-17th | Windows on Display & Window Voting |
| October 18th | Winner Announced |
Window Display Registration
Indian Student Association - UConn Stamford's 2021 Homecoming Window Display Winner for theme originality, overall neatness, and artistic quality.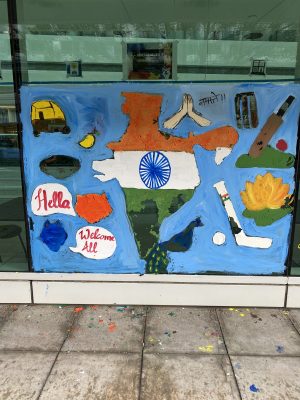 The window display contest is UConn Stamford's twist on the banner contest hosted at Storrs. Participants will have the opportunity to paint a window pane in accordance to the Homecoming theme - and yes, it's the same theme as Storrs! Windows must be completed by 4pm on October 8th. The windows will be on display for the entire week of Homecoming (October 10th – October 16th)!
Paint, brushes and cups will be supplied by the Student Activities Office.
Sensitivity Clause
When submitting a Window Painting Registration, an organization/department takes responsibility for all actions of the group or the individuals of said group while participating in Homecoming events. Entries should not be offensive to anyone. If any group entry is deemed offensive by either the judges or the Homecoming Committee, the organization will be immediately disqualified from that Homecoming event and will not receive any participation points for that event. The Rules Committee will reserve the right to take further action against the group if deemed necessary.
Window Display Voting
Window Display Rules
Window should promote the nature, atmosphere and/or your team's theme of Homecoming and overall school spirit.
Teams will be provided with a window and paint to decorate. You must remain within your window pane. Windows that exceed their assigned pane will not be accepted and therefore are disqualified. That means the window will not be judged for competition.
The banner must be completed no later than the aforementioned due date.
Window should be CLEARLY MARKED with your team.
Winners will be announced on Monday, October 18th on Social Media & in the Weekly E-Bulletin.
Windows will be judged on the following criteria:

Theme Originality (demonstrates a unique incorporation of homecoming design & theme)
Overall Neatness
Artistic Quality
***Duplicate votes by one person (user) will only count as one vote after poll closes on October 17 at 11:59PM***
FREE Dairy Bar Ice Cream!
Student Activities is proud to sponsor the Dairy Bar all the way from Storrs during Homecoming. Be sure to pre-register here in order to get your scoop of ice cream!
Slots available:
Monday, October 11 @ 1pm-3pm
Tuesday, October 12 @ 11am-1pm
Wednesday, October 13 @ 11am-1pm
Thursday, October 14 @ 2pm-4pm & 5pm-7pm
Friday, October 15 @ 11am-12pm & 4pm-6pm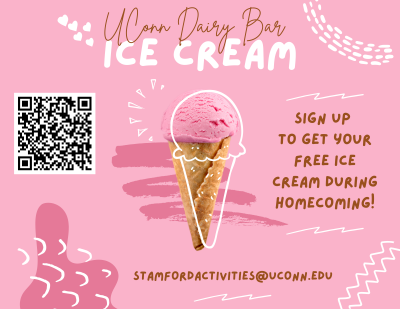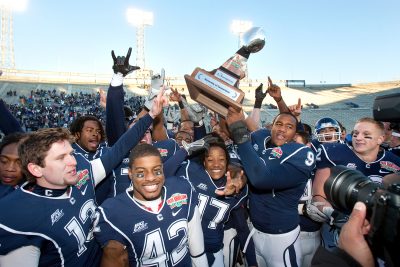 Football Game
All students have FREE admission to games with a student ID
No need to buy tickets
Show up with Student ID at Gate C
Grab a friend & head to the game together